ASHUGANJ POWER STATION COMPANY LTD JOB CIRCULAR.Ashuganj Power Station Company Limited has recently issued a notification for appointment to 1 in 1 post. You may also be able to join in accordance with the condition that you are eligible for the post. Apply for the post from 14-01-2019 Can be filed till 29-01-2019.
সকল  চাকরির পরীক্ষার সময়সূচী ও ফলাফল মোবাইলে Notification পেতে  Android apps মোবাইলে রাখেন: Jobs EXam Alert
Position names and rank: Managing Director – 1
Application rules: Interested candidates can fill up the application and submit it till January 29, 2015.
সকল  চাকরির পরীক্ষার সময়সূচী ও ফলাফল মোবাইলে Notification পেতে  Android apps মোবাইলে রাখেন: Jobs EXam Alert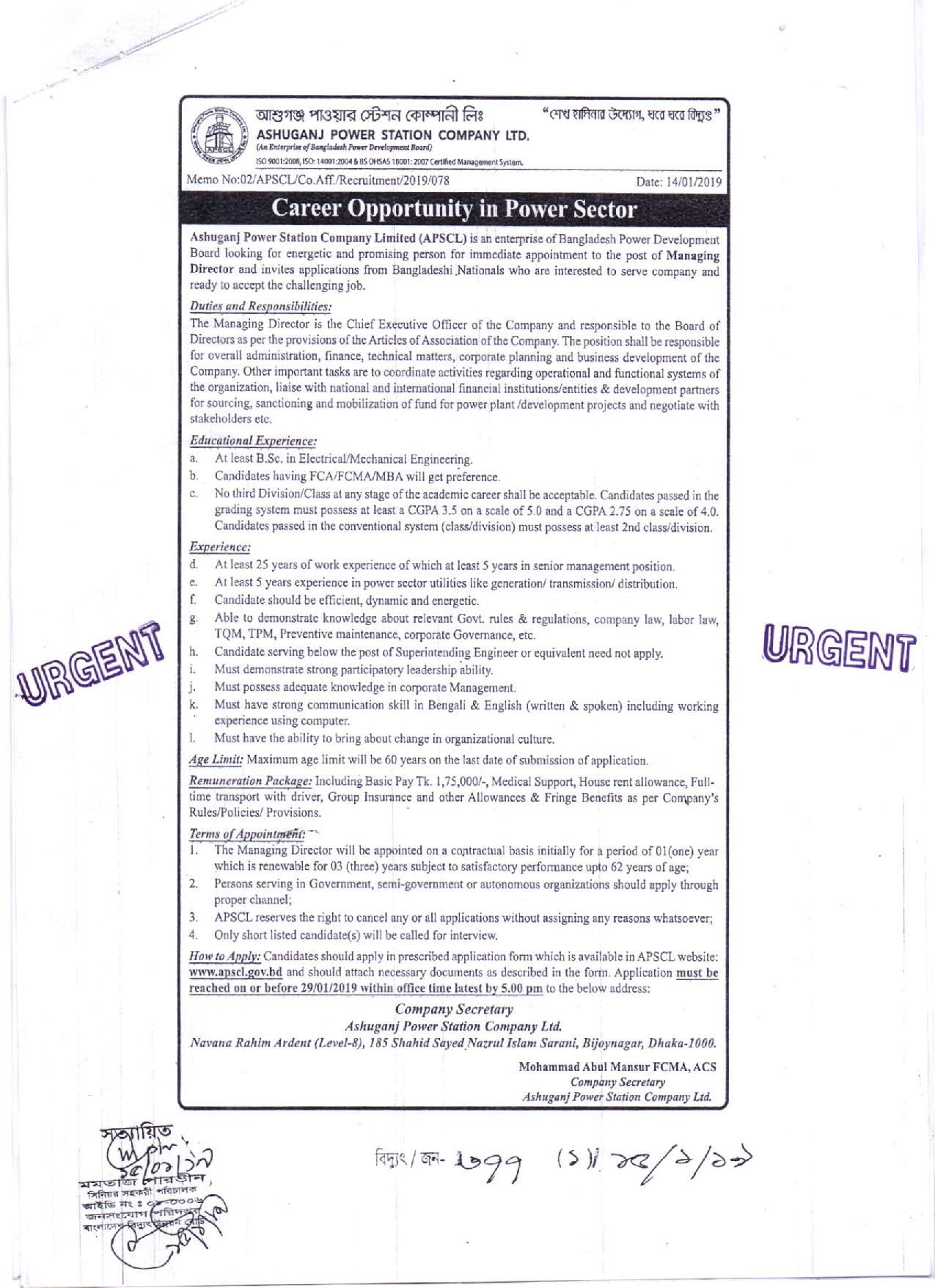 ABOUT :Ashuganj Power Station is located near to the Titas Gas field and at the bank of river Meghna, Bangladesh. It consists of 1627 megawatt units. An agreement was signed in 1966 with a foreign construction company to establish a Thermal Power Plant in Ashuganj. It is owned and operated by Ashuganj Power Station Company Ltd.
সকল  চাকরির পরীক্ষার সময়সূচী ও ফলাফল মোবাইলে Notification পেতে  Android apps মোবাইলে রাখেন: Jobs EXam Alert
More information:
About Admit: Any admits card  published. when you do not download this admit card. you do not attend this exam. see about admit card: Click here
About Result:  then you need this exam result. you can use our android apps Jobs Exam Alert. this app all time notification all exam date and result. or see this link for the result: Click here