সকল  চাকরির পরীক্ষার সময়সূচী ও ফলাফল মোবাইলে Notification পেতে  Android apps মোবাইলে রাখেন: Jobs EXam Alert
CANTONMENT COLLEGE, JESSORE JOB CIRCULAR. Cantonment College, Jessore recently posted the notification for recruitment of lecturers in five posts. You can join subject to the condition that you are eligible for the posts. Online application for the post for the post is from 12-01-2019. Can be applied till 31-01-2019
সকল  চাকরির পরীক্ষার সময়সূচী ও ফলাফল মোবাইলে Notification পেতে  Android apps মোবাইলে রাখেন: Jobs EXam Alert
Position names and rank:Lecturer (Bangla)
Lecturer (Mathematics)
Lecturer (Accounting)
Lecturer – (Lecturer and History of Islam)
Lecturer (Social Work)
সকল  চাকরির পরীক্ষার সময়সূচী ও ফলাফল মোবাইলে Notification পেতে  Android apps মোবাইলে রাখেন: Jobs EXam Alert
Application qualification: The application's eligibility, experience, and age range for each post vary. Under the terms and conditions of the eligibility, experience and age of the application, the following notices will be known.
Application rules: Interested candidates will be able to fill up the application and submit it till January 31,2019
APPLICATION FORM: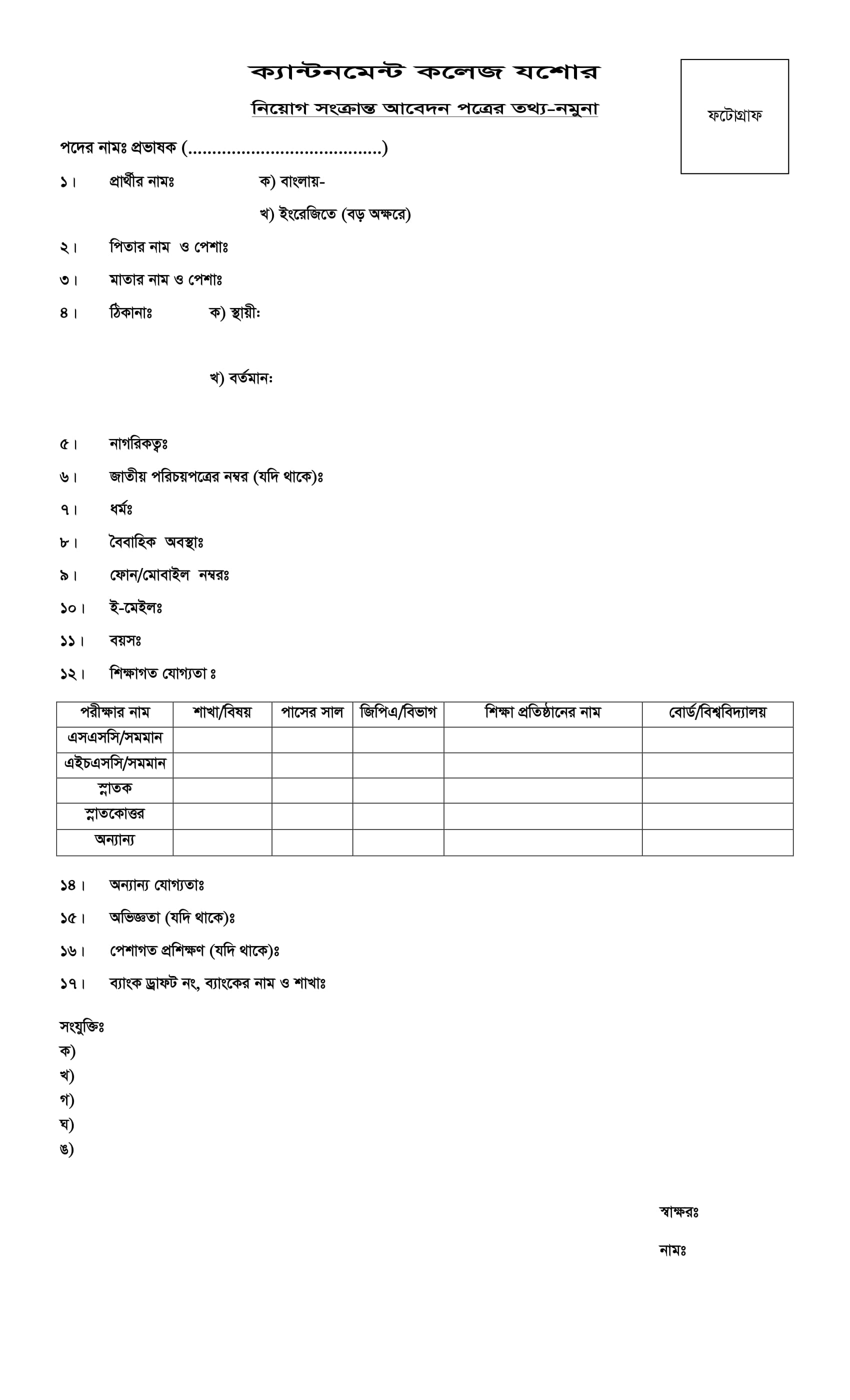 ABOUT : Jessore Cantonment College was certified as the best educational institution in National Education Week, 2002.
Higher secondary subjects include Science, Commerce and Arts programmes; the college also offers Honours courses, including Bengali, Social Work, Islamic History, Islamic Studies, Accounting, Management, B.B.A., and Mathematics. College-level computer education was introduced in 1994. The computer department provides students with internet facilities.Science, Humanities & Business Study streams are available at Higher Secondary level. BA, BSS & BSc courses are accessible at degree (pass) level. Moreover, degree (Honours) courses in Bangla, Economics, Political Science, Social Work, Islamic History & Culture, Islamic studies, Accounting, Management, Mathematics, and Business Administration are also open here. Co-education is prevalent at all levels.
সকল  চাকরির পরীক্ষার সময়সূচী ও ফলাফল মোবাইলে Notification পেতে  Android apps মোবাইলে রাখেন: Jobs EXam Alert
More information:
About Admit: NPCBL admits card some day ago published. when you do not download this admit card. you do not attend this exam. see about admit card: Click here
About Result:  then you need this exam result. you can use our android apps Jobs Exam Alert. this app all time notification all exam date and result. or see this link for the result: Click here