সকল  চাকরির পরীক্ষার সময়সূচী ও ফলাফল মোবাইলে Notification পেতে  Android apps মোবাইলে রাখেন: Jobs EXam Alert
Directorate of Technical Education job Circular, The Directorate of Technical Education has recently published the notification for appointment to 15 posts in 533 posts. You can also join the subject according to the circular. You can apply for online papers from 10-12-2018. It may be appearing as of 31-12-2018.
Application qualification: The application's eligibility, experience, and age range for each post vary. Under the terms and conditions of the eligibility, experience and age of the application, the following notices will be known.
Age of job application:Candidates should be between 18 to 30 years of age on 31-12-2018. But the children of freedom fighters / martyred freedom fighters are 32 years old.
Directorate of Technical Education job Circular
post vacancy: 533
পদের নাম ও পদসংখ্যা
ধর্ম শিক্ষক  (ইসলাম ধর্ম)- ৫৫
 লাইব্রেরিয়ান-২৩
লাইব্রেরিয়ান-১৫
হিসাব রক্ষক-০৯
 ইউ ডি এ  কাম একাউন্টেন্ট-০৯
 এল ডি এ  কাম স্টোরকিপার-২৫
 সহকারি কাম স্টোরকিপার-১০
 অফিস সহকারী কাম স্টোর কিপার-১৭
 এল ডি এ কাম টাইপিস্ট-০১
 সহকারি কাম টাইপিস্ট-০৫
 কেয়ারটেকার-২৩
 ক্রাফট ইন্সট্রাক্টর  (সপ )- ৩৯
ক্রাফট ইন্সট্রাক্টর  (লাব )-০৮
 অফিস সহায়ক- ২২৪
 অফিস সহায়ক/ নিরাপত্তা প্রহরী- ৭০
Application last date: 31-01-2021
Application rules:Interested candidates can fill up the application and submit it till 31-12-2018.
Important Links :
you need all exam date and result notification use our android apps.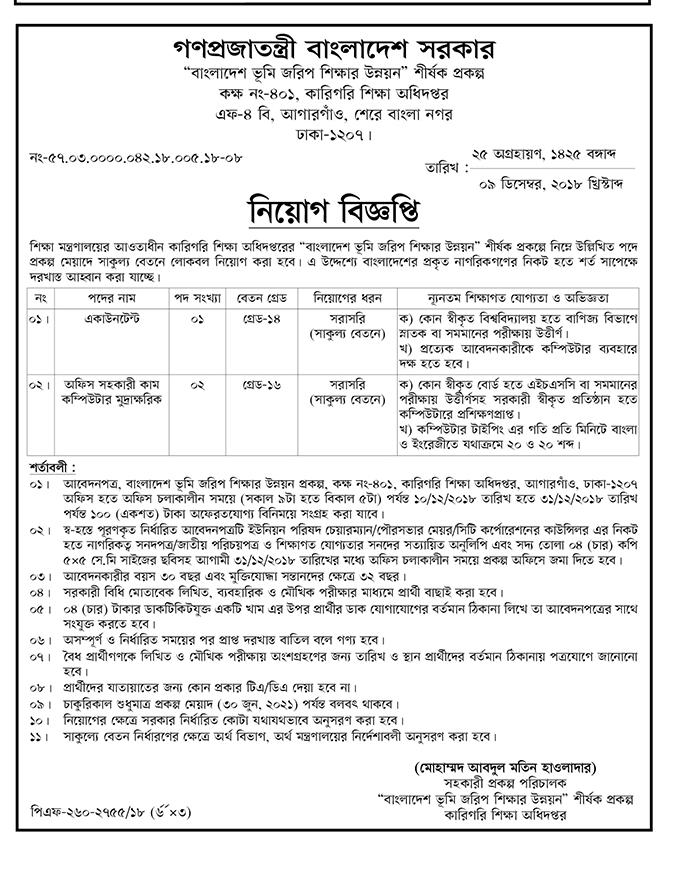 For more information see below Notice:  
More information:
About Admit: Technical Education admits card some day ago published. when you do not download this admit card. you do not attend this exam. see about admit card: Click here
About Result:  then you need this exam result. you can use our android apps Jobs Exam Alert. this app all time notification all exam date and result. or see this link for the result: Click here