সকল  চাকরির পরীক্ষার সময়সূচী ও ফলাফল মোবাইলে Notification পেতে  Android apps মোবাইলে রাখেন: Jobs EXam Alert
SSC Result 2023 Marksheet With Number has been published today. The SSC Examination 2023 Result Published by www.educationboardresults.gov.bd. We know that the SSC Result 2022 is almost ready to publish this month on july 2023
SSC Exam Result 2023 will be published july 2023
Education officials said that the government announced the results of SSC and equivalent examination on july
According to the subcommittee for coordination of the Inter-Education Council, they register for the service in advance, the results will be sent directly to their students via SMS on their mobile phones.
However, officials have a date for announcing the results, said MD Mahbub Hussain, Secretary, Department of Secondary and Higher Studies. But the SSC result will be published digitally this year, the Dhaka Education Board said in a statement on today.
It has been said that results are not being sent to educational institutions to avoid ceremonies during the coronovirus crisis. To access the results via SMS, a student needs to write the first three letters of the board's name 'SSC <space> <space> roll number <space> 2023' and send it from any mobile phone for a fee of TK Send 2.55 to 16222.
They can also collect the results on the website of their respective education boards. Educational institutions have been instructed to keep their offices closed on the day of results. At least 2.4 million students appeared in SSC and equivalent examination from
Results are published annually within 60 days of the examination. However, exceptions have been made this year, as educational institutions have been closed since March 17 due to the coronovirus crisis.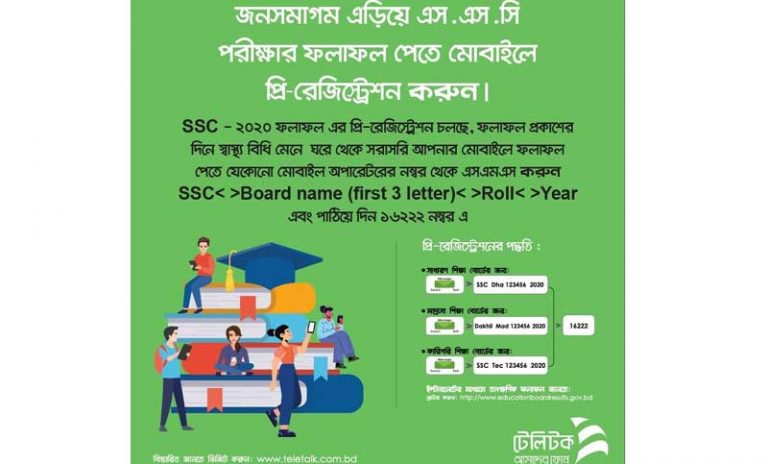 Authorities took the initiative against the backdrop of the coronovirus epidemic.
"This is the first time we have already registered candidates and will send their results on their mobile phones," said Manjurul Kabir, Senior Systems Analyst, Dhaka Education Board.
"We have started sending messages to all cell phone providers and hope that all candidates and / or their parents register for their results," he said.
To learn more about SSC and equivalent results, registration will continue for 24 hours before the results are published. SMS should be sent to 16222 with SSC / Dakhil <space> BOARD <space> ROLL <space> EEAR.
Dhaka Education Board President Prof Ziaul Haq said that he has made all kinds of preparations to publish the results.
Ziaul, head of the inter-board coordination committee, said that students will not be able to collect their results from educational institutions this year.
For the first time in the last eight years, the government cannot publish the results within 60 days of taking the public examination.
Some 22,31,899  students appeared in SSC and equivalent examinations in 3,679 centers.
Monjurul Kabir said, like previous years, the results will also be available on the Board of Education website.
Examiners can also obtain results from the educational board's website http://www.educationboardresults.gov.bd/ and from the respective educational boards website.
The below are the DEMO image of SSC Exam Result 2022:
Example: SSC <Space>DHA <Space>123456 <Space>2022 And send to 16222
• Now send the message to 16222.
Click to know SSC Result with Markshee
Rules for Viewing SSC Result of All Boards in SMS:
• Dhaka Board: SSC DHA 123456 2023
• Chittagong Board: SSC CHI 123456 2023
• Rajshahi Board: SSC RAJ 123456 2023
• Barisal Board: SSC BAR 123456 2023
• Sylhet Board: SSC SYL 123456 2023
• Jessore Board: SSC JES 123456 2023
• Dinajpur Board: SSC COM DIN 123456 2023
• Mymensingh Board: SSC MYM 123456 2023
• Madrasa Board: SSC MAD 123456 2023
• Technical Board: SSC TEC 123456 2023
SMS should be sent to 16222.