সকল  চাকরির পরীক্ষার সময়সূচী ও ফলাফল মোবাইলে Notification পেতে  Android apps মোবাইলে রাখেন: Jobs EXam Alert
Today Ansar VDP Job Circular 2018 has been published. Maximum, people want to like to work in government sector. This job circular has been created a huge chance unemployed people who are interested in Govt. Job in Bangladesh. It's an attractive job circular in 2018.
Post Name: General Ansar
Application Last Date: 30 December 2018
সাধারণ আনসার মৌলিক প্রশিক্ষণ ২০১৮-১৯ তৃতীয় ধাপ-পুরুষ-এর আবেদন করার যোগ্যতা:
লিঙ্গঃ Male
বয়স 09-Dec-2018 খ্রি. তারিখে সর্বনিম্ন 18 এবং 30-Dec-2018 খ্রি. তারিখে সর্বোচ্চ 30 বছর গ্রহণযোগ্য
সর্বনিম্ন উচ্চতা: 5ft এবং 4inch
সর্বনিম্ন বুকের মাপ (স্বাভাবিক-সম্প্রসারিত) 30-32inch
Important Links :
you need all exam date and result notification use our android apps.
For more information see below Notice: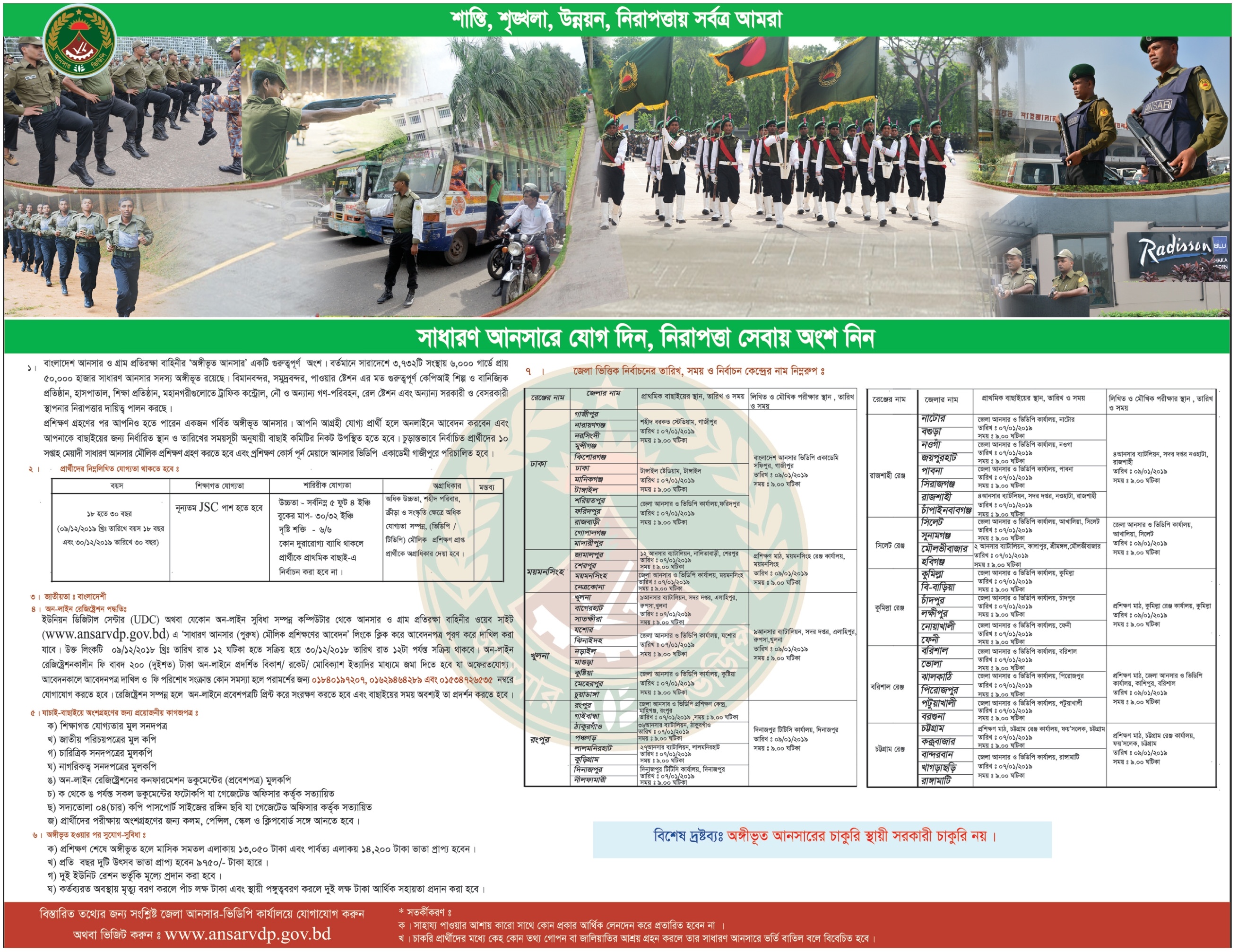 More information:
About Admit: Bangladesh Ansar admits card some day ago published. when you do not download this admit card. you do not attend this exam. see about admit card: Click here
About Result:  then you need this exam result. you can use our android apps Jobs Exam Alert. this app all time notification all exam date and result. or see this link for the result: Click here