সকল  চাকরির পরীক্ষার সময়সূচী ও ফলাফল মোবাইলে Notification পেতে  Android apps মোবাইলে রাখেন: Jobs EXam Alert
IFIC BANK publishes new job circular. IFIC Bank has recently published new recruitment for indefinite number of people in 1 post. You may also be able to join in accordance post to maintain the condition that you are eligible for this post. Applying for the online post from 14-12-2018 Application can be upto 31-12-2018.
সকল  চাকরির পরীক্ষার সময়সূচী ও ফলাফল মোবাইলে Notification পেতে  Android apps মোবাইলে রাখেন: Jobs EXam Alert
Job Title:Trainee Assistant Officer
Age of job application:
Candidates should be between 18 to 30 years of age on 31-12-2018.
Application rules: Interested candidates can fill up the application from the website (http://career.ificbankbd.com/) and submit them till 31-12-2018.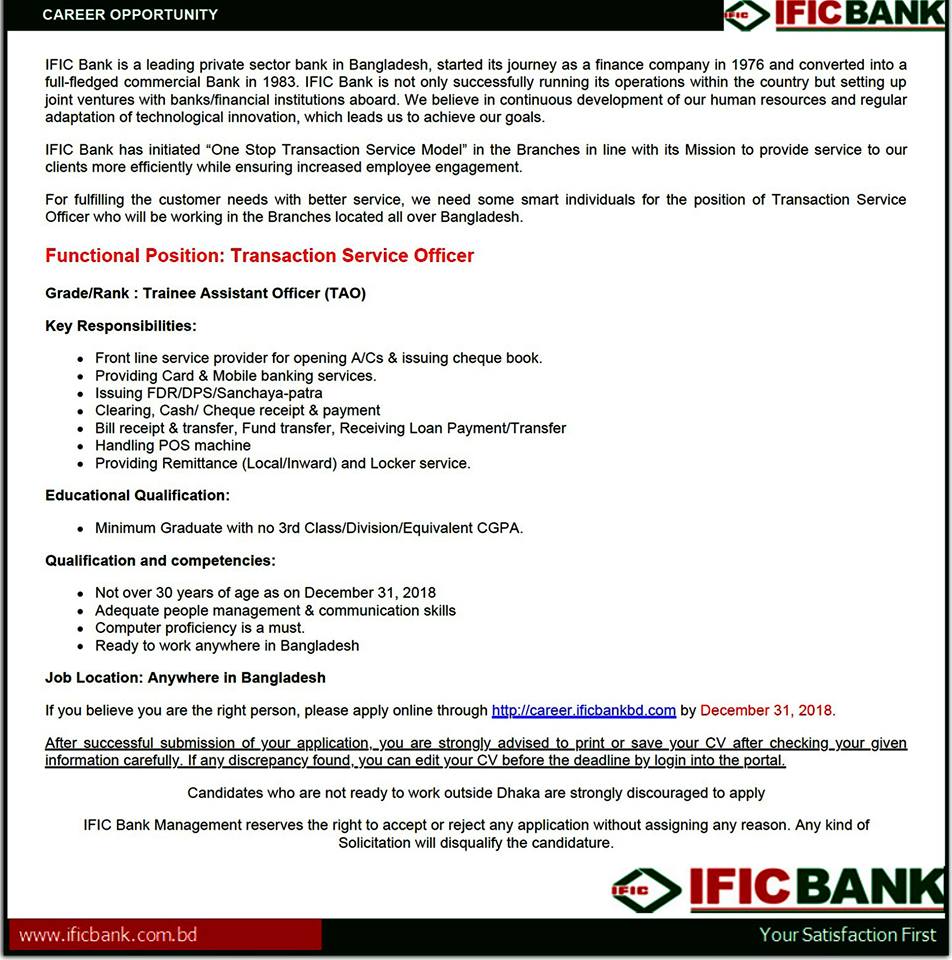 সকল  চাকরির পরীক্ষার সময়সূচী ও ফলাফল মোবাইলে Notification পেতে  Android apps মোবাইলে রাখেন: Jobs EXam Alert
For more information you can visit our website : www.jobsexamalert.com or visit our facebook page www.studyonlinebd.com.
we are the faster informer for job circular, exam date and result so stay with us and visit our website for news update.
More information:
About Admit: IFIC BANK  admits card when published you cant download this admit card by our website. you do not attend this exam. without admit card: Click here
About Result:  then you need this exam result. you can use our android apps Jobs Exam Alert. this app all time notification all exam date and result. or see this link for the result: Click here 
ABOUT IFIC BANK:
The International Finance Investment and Commerce Bank Limited is a private commercial bank in Bangladesh. The majority of the shares are owned by the Government of Bangladesh. In 2013 IFIC announced planned to become a sharia compliant bank. 
Wikipedia
Key people: 
Salman F Rahman (Chairman); Mr. M. Shah Alam Sarwar (Managing Director)
Subsidiaries: 
Nepal Bangladesh Bank, Ific Securities Ltd, IFIC Money Transfer (UK) Ltd, IFIC Bank Ltd., Asset Management Arm