সকল  চাকরির পরীক্ষার সময়সূচী ও ফলাফল মোবাইলে Notification পেতে  Android apps মোবাইলে রাখেন: Jobs EXam Alert
Bangladesh railway publishes new job circular. The Bangladesh Railway recently issued a notification for recruitment of 190 people in 1 post. You may also be able to join in accordance with the condition that you are eligible for the post. Apply for the post from 27-12-2018 Can be applied till 20-01-2019
Position names and rank: Gatekeeper – 190 people
Application qualification: The applicant's eligibility, experience and age conditions can be found in the following notices.
Age of job application: Candidate should be between 18 and 30 years on 20-01-2019. But the children of freedom fighters / martyred freedom fighters are 32 years old.
Application rules: Interested candidates can fill up the application and submit it till January 20, 2015.
Please see the details below: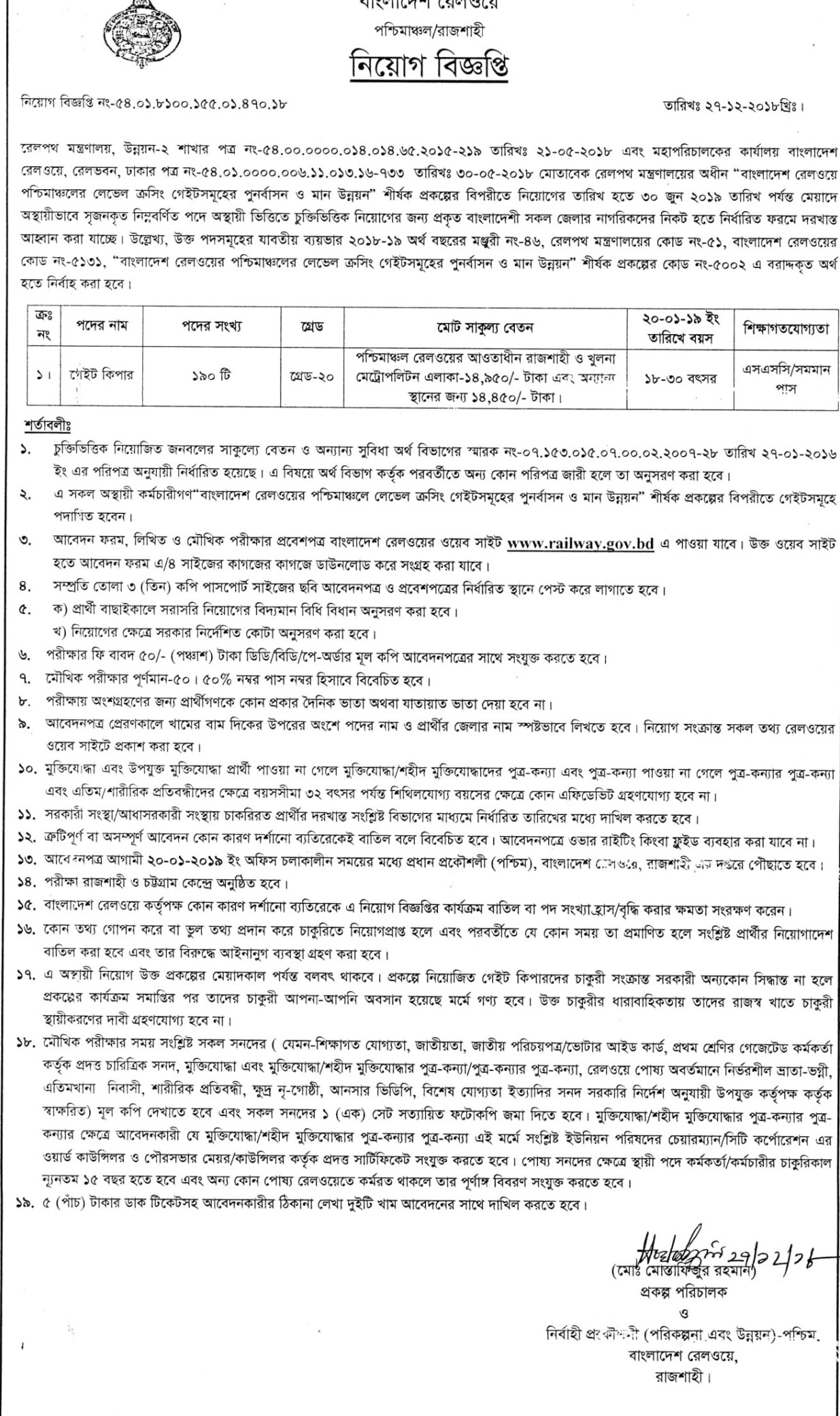 ABOUT BANGLADESH RAILWAY:
Rail transport in Bangladesh began on 15 November 1862, when 53.11 km of 5 ft 6 in (1,676 mm) (broad gauge) line was opened between Darshana in Chuadanga District and Jogotee in Kushtia District. On 4 January 1885, a further 14.98 km 1,000 mm (3 ft 3 3⁄8 in) (metre gauge) line was opened. In 1891, the Bengal Assam Railway was constructed with the assistance of the government. It was later run by the Bengal Assam Railway Company.
On 1 July 1895, two sections of metre gauge railway were constructed by English railway companies. One connected Chittagong and Comilla(149.89 km). The other connected Laksam Upazila and Chandpur (50.89 km).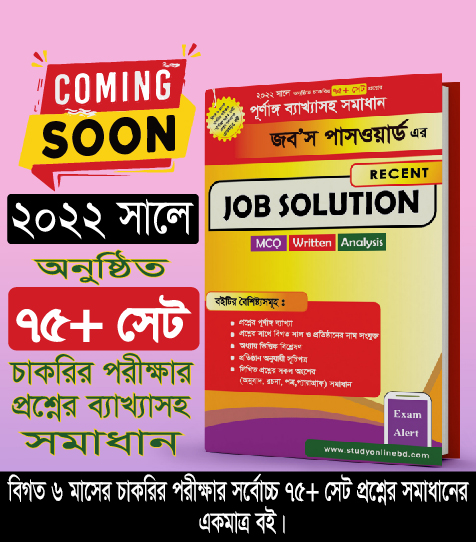 In 1947, at the time of the Partition of India, the Bengal Assam Railway was divided into two parts. The 2,603.92 km of track located in East Pakistan, came under the control of the central Government of Pakistan. On 1 February 1961, the Eastern Bengal Railway was renamed the "Pakistan Eastern Railway". In 1962, control of the Pakistan Eastern Railway was transferred to the Government of East Pakistan. On 9 June 1962, by order of the president, the Pakistan Eastern Railway management was assumed by a Railway Board.[6]
In 2005, the total length of the Bangladesh Railway was 2,855 km.[7] There was 660 km of broad gauge track (mostly in the western region), 1,830 km of metre gauge track (mostly in the central and eastern regions) and 365 km of dual gauge track.[8] In 1998, the Jamuna Bridge was built to connect the previously divided east and west rail networks in dual gauge.[9]
In 2010, funding was received for a bridge over the Titas River.[10] In September 2010, the Government of Bangladesh approved ten rail development projects costing 19·9 billion Bangladeshi taka including plans for new tracks and rolling stock.
In 2011, Sheikh Hasina Wazed, the Prime Minister of Bangladesh, officiated at the start of construction of a link which would cross several rivers to reach Cox's Bazar. The 100 km of gauge line started from the railhead at Dohazari, southeast of Chittagong. The plan was to reach Satkania, Dulahazra, Chakarin, Edgaon, Ramu and Cox's Bazar, with four major river bridges and a 28 km branch from Ramu to Gundum. In 2013, the Chittagong Circular Railway was completed.
In 2015, construction of a 15 km branch to Agartala, Tripura in Northeast India commenced. In 2017, land acquisition took place to facilitate the construction