সকল  চাকরির পরীক্ষার সময়সূচী ও ফলাফল মোবাইলে Notification পেতে  Android apps মোবাইলে রাখেন: Jobs EXam Alert
BKSP publishes new job circular 2019. The Bangladesh Sports Education Institute (BKSP) has recently announced the appointment of 24 people in 14 posts. You can join to maintain the condition and proof  that you are eligible for this post. Can be applied till 31-01-2019. Every candidate can maintain this job's all condition and offer himself or herself for this job.
Here all condition and physical ability is very important for this posts cause it's a exercise related job.
সকল  চাকরির পরীক্ষার সময়সূচী ও ফলাফল মোবাইলে Notification পেতে  Android apps মোবাইলে রাখেন: Jobs EXam Alert
Position names and rank:
Coach Gymnastics – 1
Coach Basketball – 1
Coach Cricket – 1
Coach Football – 1
Coach Volleyball – 1
Boxing – 1
Shooting – 1
Deputy Assistant Engineer – 1
Driver – 1
Assistant Controller Store – 1
John Telephone Operator – 2
Assistant Pump Machine Operator – 1
Office Assistant – 1
Messawater – 1
Car Helper – 1
Mali – 1
Security Guard – 1
Cleaner – 4
সকল  চাকরির পরীক্ষার সময়সূচী ও ফলাফল মোবাইলে Notification পেতে  Android apps মোবাইলে রাখেন: Jobs EXam Alert
Application qualification: The application's eligibility, experience, and age range for each post vary. Under the terms and conditions of the eligibility, experience and age of the application, the following notices will be known.
Age limitation for job application:
See the following notifications
Application rules: Interested candidates will be able to fill up the application and submit it till January 31,2019.
সকল  চাকরির পরীক্ষার সময়সূচী ও ফলাফল মোবাইলে Notification পেতে  Android apps মোবাইলে রাখেন: Jobs EXam Alert
See the below circular and all conditions for this job. Here every post have different condition and educational qualification so see this notice carefully and share our website and visit everyday for more updates and latest job circular .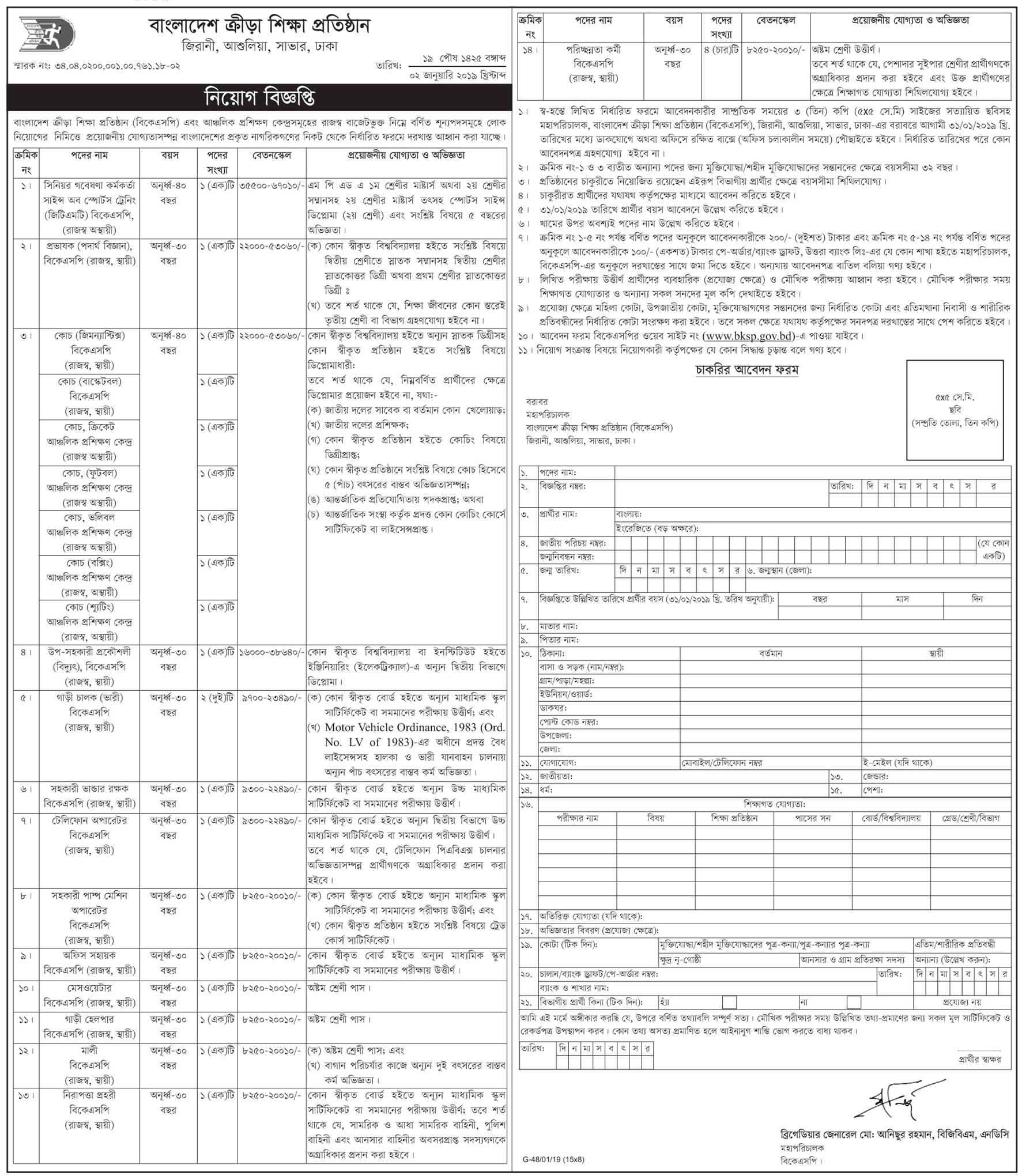 ABOUT BKSP: Bangladesh Krira Shikkha Protishtan is the national sports institute of Bangladesh. It is residential and is located at Savar, about 28 km north-west of the capital, Dhaka, and about 8 km north of the Sriti Soudho. It is a government-funded autonomous institution. Wikipedia
Region served: 
Bangladesh
BKSP is a school of sports in bangladesh. cricket ,football, hockey, hadudu,badminton are the maint sports for teach it in this school.