সকল  চাকরির পরীক্ষার সময়সূচী ও ফলাফল মোবাইলে Notification পেতে  Android apps মোবাইলে রাখেন: Jobs EXam Alert
Bankers Selection Committee not published bank MCQ exam date but published  MCQ exam. Bankers Selection Committee published exam date for  Officer (General)  post in 5 banks. This banks name Sonali Bank Limited, Bangladesh Development Bank Limited, Bangladesh Agricultural Bank, Rajshahi Agricultural Development Bank and Investment Corporation of Bangladesh.  someday ago Bankers Selection Committee published the job Circular for 5 banks in some posts.
Post name: Officer (General)
Admit: Admit is given already
Exam type:  MCQ exam. this exam held on Dhaka city.
Exam date:  20 July 2018
Exam Time: From Friday 10.30AM  to 11.30 AM will be held in Dhaka city
Download Admit Card:  published many days ago. 
Important Links :
you need all exam date and result notification use our android apps.
see more information about this exam Result see notice image below: 
Old Notice sees below: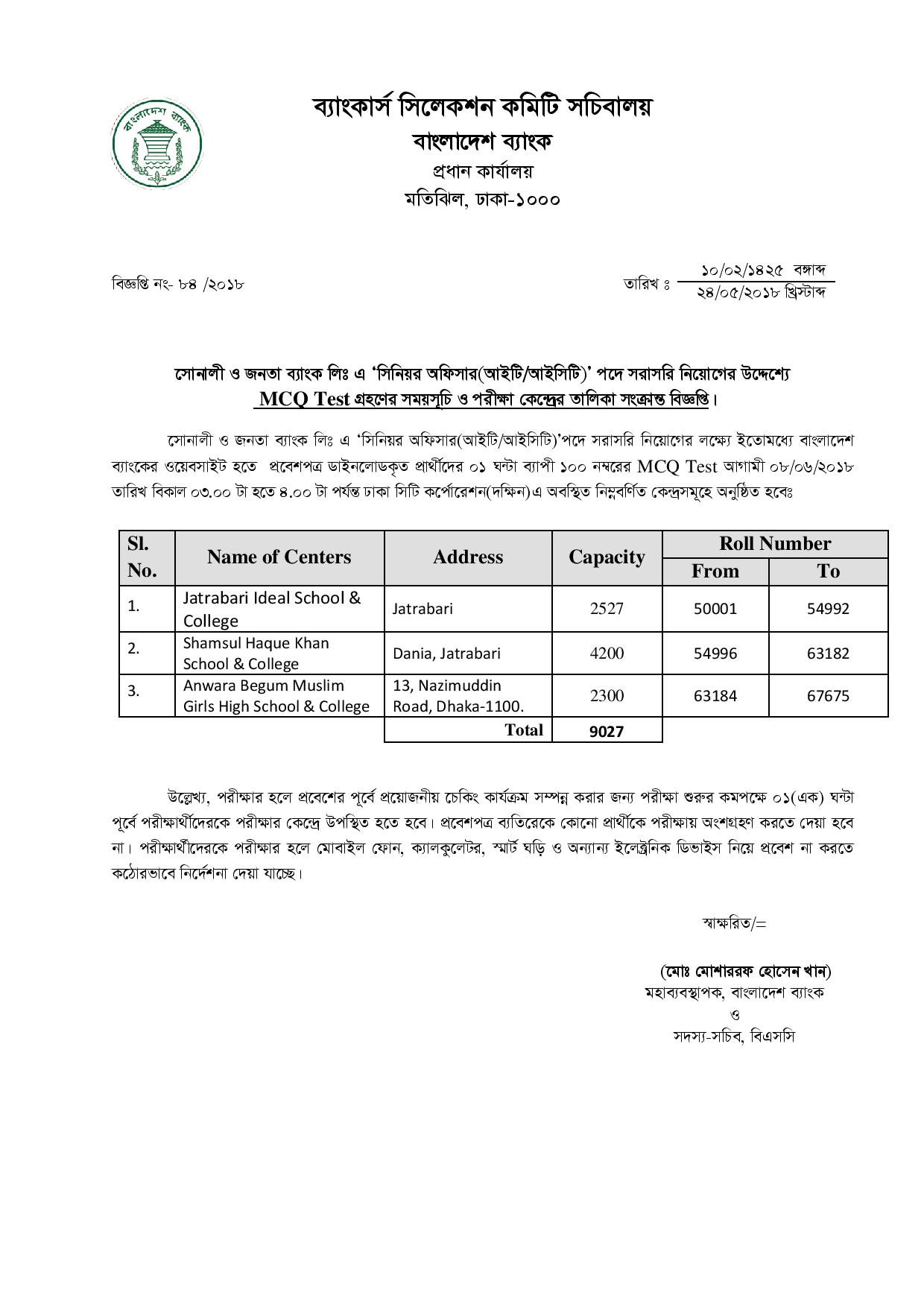 More information:
About Admit: Sonali Bank admits card some day ago published. when you do not download this admit card. you do not attend this exam. see about admit card: Click here
About Result:  then you need this exam result. you can use our android apps Jobs Exam Alert. this app all time notification all exam date and result. or see this link for the result: Click here
About Bangladesh bank:
Bangladesh Bank is the central bank of Bangladesh and is a member of the Asian Clearing Union. The bank is active in developing green banking and financial inclusion policy and is an important member of the Alliance for Financial Inclusion