BTV publishes new job circular.
BTV publishes new job circular. Recruitment Notification: "Bangladesh Television's nation wide digital terrestrial broadcasting launch (1st stage)" has recently published the notification for the recruitment of 25 people in three posts temporarily under the project titled "Digital Television Broadcasting of Bangladesh Television (1st Stage)". You can also join the subject according to the condition that you qualify for the post. Apply for the post from 13-12-2018. Can be applied till 6-01-2019.
সকল  চাকরির পরীক্ষার সময়সূচী ও ফলাফল মোবাইলে Notification পেতে  Android apps মোবাইলে রাখেন: Jobs EXam Alert
Position names and rank:
Television Engineer-8
Deputy Assistant Engineer-16
Assistant Accountant-1
Age of job application:
Candidate should be between 18 to 30 years of 06-01-2019. But the children of freedom fighters / martyred freedom fighters are 32 years old.
Application rules:
Interested candidates can fill up the application and submit it till 6-01-2019.
সকল  চাকরির পরীক্ষার সময়সূচী ও ফলাফল মোবাইলে Notification পেতে  Android apps মোবাইলে রাখেন: Jobs EXam Alert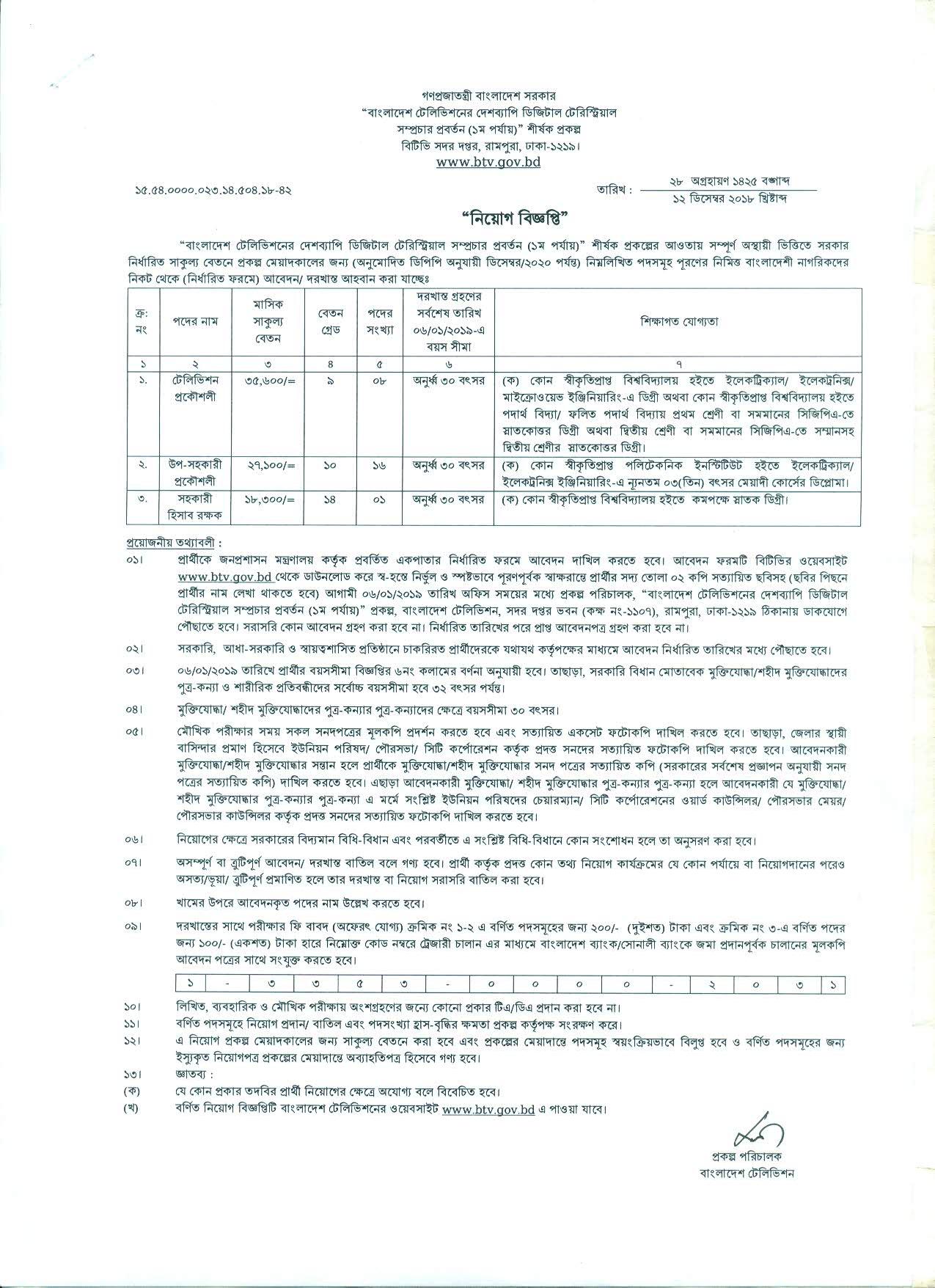 More information:সকল  চাকরির পরীক্ষার সময়সূচী ও ফলাফল মোবাইলে Notification পেতে  Android apps মোবাইলে রাখেন: Jobs EXam Alert
About Result:  then you need this exam result. you can use our android apps Jobs Exam Alert. this app all time notification all exam date and result. or see this link for the result: Click here