সকল  চাকরির পরীক্ষার সময়সূচী ও ফলাফল মোবাইলে Notification পেতে  Android apps মোবাইলে রাখেন: Jobs EXam Alert
 Bangladesh Civilian army job circular 2019 . In the Bangladesh Army civilian (Civil) has recently published permanent / temporary recruitment notice of 668 people. You can also join the subject according to the condition that you qualify for the post. Can be applied till 6th February, 2019
সকল  চাকরির পরীক্ষার সময়সূচী ও ফলাফল মোবাইলে Notification পেতে  Android apps মোবাইলে রাখেন: Jobs EXam Alert
Position names and rank: Total No. of posts – 668
Application rules: Interested candidates can fill up the application and submit it till 06 February, 2015.
Details below:
সকল  চাকরির পরীক্ষার সময়সূচী ও ফলাফল মোবাইলে Notification পেতে  Android apps মোবাইলে রাখেন: Jobs EXam Alert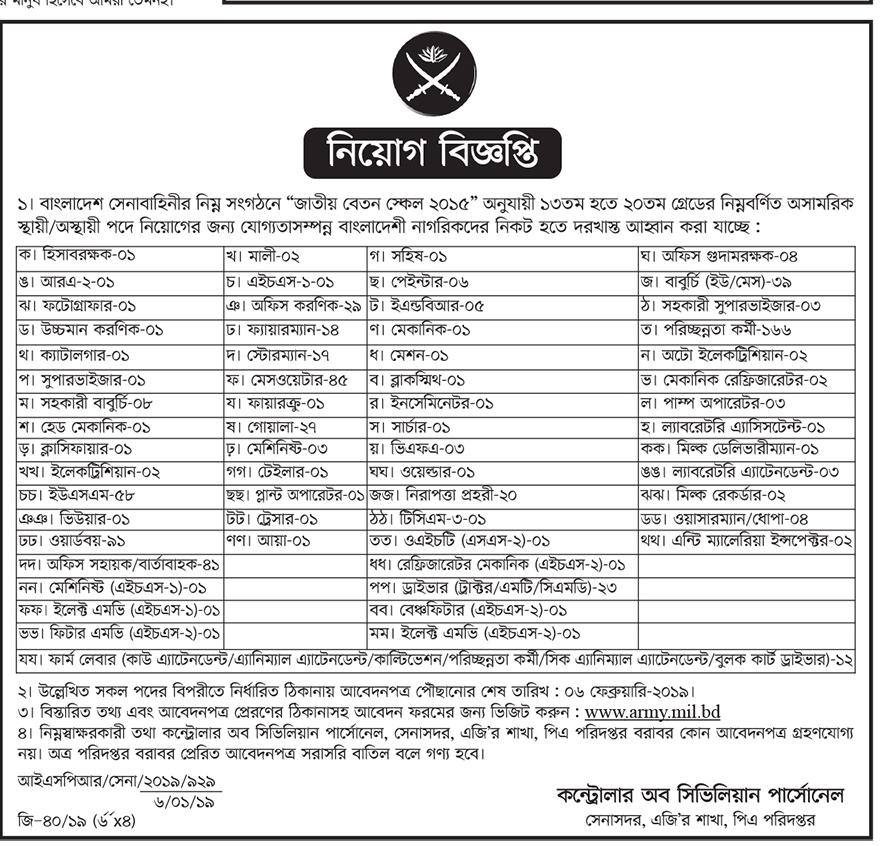 About bangladesh civilian army : The Bangladesh Army  is the land forces branch and the largest of the three defence service of the Bangladesh Armed Forces. The primary mission of the Army is to provide necessary forces and capabilities in support of Bangladesh's security and defence strategies including defence of the nation's territorial integrity against external attack. Control and operations are administered by the Department of the Army of the Armed Forces Division. In addition to its primary mission the Bangladesh Army is also constitutionally obligated to assist the civilian government during times of national emergency. This role is commonly referred to as "aid to civil administration".
More information:
About Admit: Bangladesh Civilian army admits card some day ago published. when you do not download this admit card. you do not attend this exam. see about admit card: Click here
About Result:  then you need this exam result. you can use our android apps Jobs Exam Alert. this app all time notification all exam date and result. or see this link for the result: Click here
সকল  চাকরির পরীক্ষার সময়সূচী ও ফলাফল মোবাইলে Notification পেতে  Android apps মোবাইলে রাখেন: Jobs EXam Alert