সকল  চাকরির পরীক্ষার সময়সূচী ও ফলাফল মোবাইলে Notification পেতে  Android apps মোবাইলে রাখেন: Jobs EXam Alert
Today publish  Bangladesh Television exam date and Exam Results  .this exam date publishes by Bangladesh Television website. you can see this notice Bangladesh Television website www.btv.gov.bd. this exam held on 15 May 2018. this exam jobs circular publish some month ago and most of the Bangladeshi Graduate pass student apply for this jobs. this exam held in Bangladesh big city and capital in Bangladesh. many of students come to Dhaka city from many other cities in Bangladesh. this exam maintenance Dhaka university IBA facility. this exam full maintenance by Bangladesh Television and this exam need exam fee.all examine attend this exam by admit card. this admits card some day ago publish Bangladesh Television website for all examine. you do not come with any device or calculator when you come exam room.   you can see more information about this exam see all in below :
Post name: Office Assistant  of  Bangladesh Television
Exam type: viva exam. this exam held on Dhaka city.
Exam date:  15 may 2018 to 22 may 2018
Exam Time:  12.00pm start viva exam and end this exam.
Download Admit Card:  published some day ago. 
Important Links :
you need all exam date and result notification use our android apps.
see more information about this exam date see notice image below: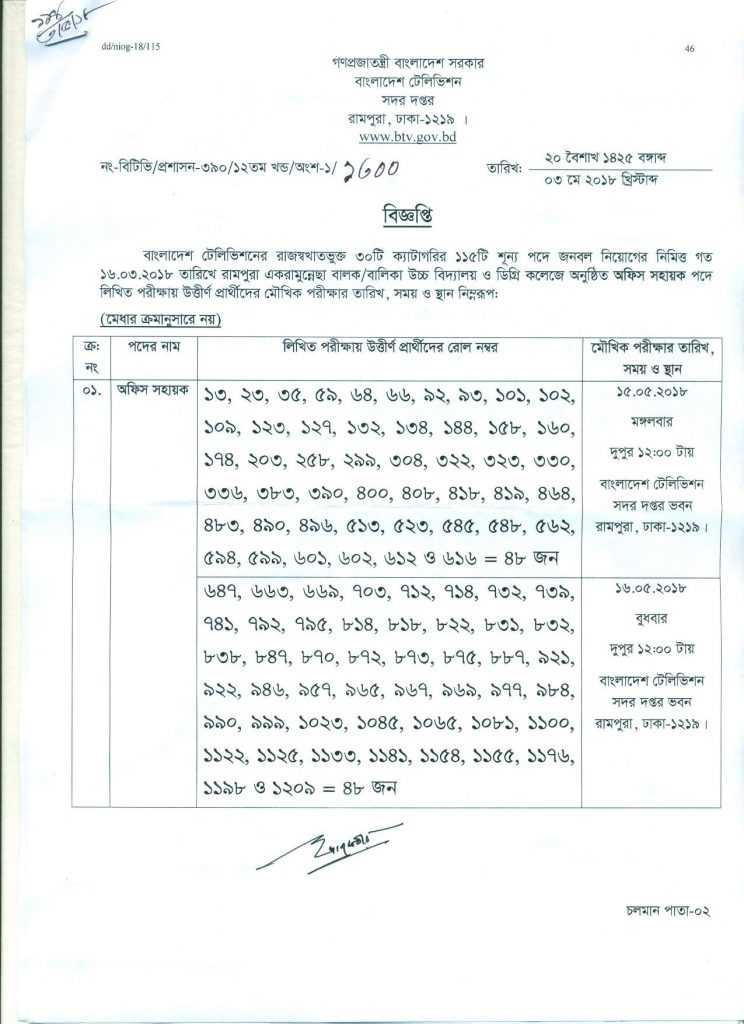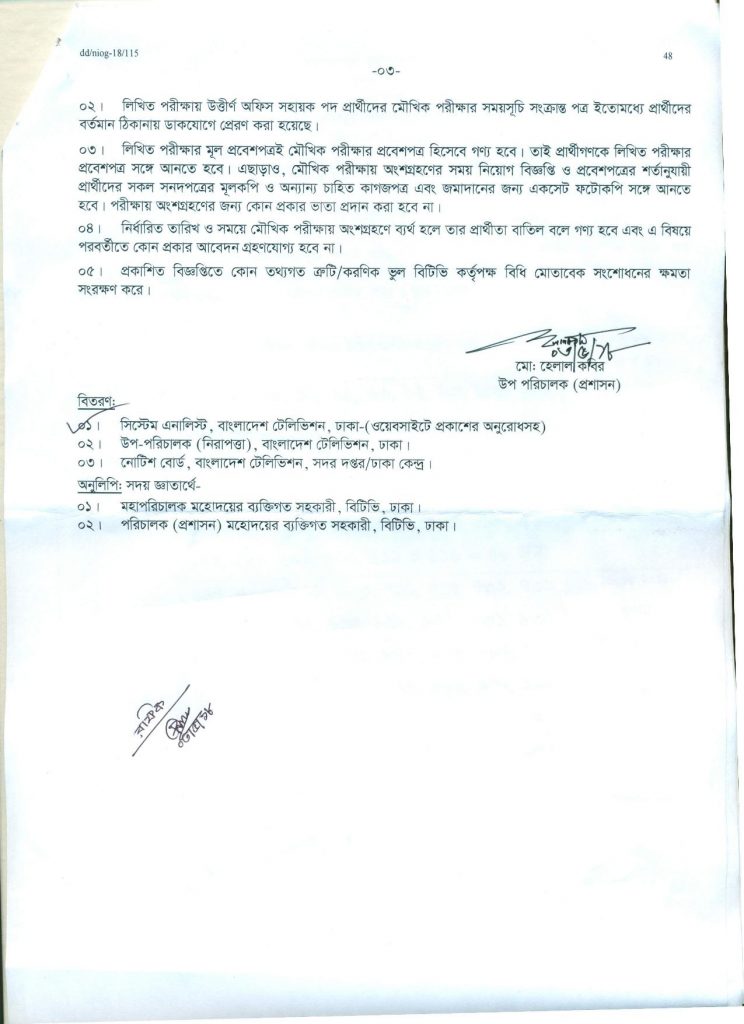 More information:
About Admit: Bangladesh Television admits card some day ago published. when you do not download this admit card. you do not attend this exam. see about admit card: Click here
About Result:  then you need this exam result. you can use our android apps Jobs Exam Alert. this app all time notification all exam date and result. or see this link for the result: Click here
About Bangladesh Television:
Bangladesh Television (BTV), a state-owned national TV station began its operations in 1964. Besides education and entertainment, its mandate is to ensure the equitable dissemination of information to the mass people and contribute to the nation's socio-economic development of Bangladesh. It telecasts various program comprising drama, documentaries, musicals, education and information, including 9 News bulletins in English and Bangla daily. The vision of the present Government is to make "Digital Bangladesh" by 2021 and BTV is working on it.