সকল  চাকরির পরীক্ষার সময়সূচী ও ফলাফল মোবাইলে Notification পেতে  Android apps মোবাইলে রাখেন: Jobs EXam Alert
Today published Probashi Kallyan Bank Exam date. this exam date publishes by Bangladesh bank website. you can see this notice Bangladesh bank website erecruitment.bb.org.bd. this exam held on 12 January 2018.this jobs circular published some month ago. most of Bangladeshi Graduate pass student apply for this jobs. all of graduate pass people try to bank jobs. this exam held in Dhaka city many students come in Dhaka city by others city. this exam maintenance Dhaka university IBA facility. this exam full maintenance by Bangladesh bank and this exam no need exam fee.all examine attend this exam by admit card. this admits card some day ago publish Bangladesh bank website for all examine. you do not come with any device or calculator when you come exam room.   you can see more information about this exam see all in below :
Post name: Executive Officer (Cash) Probashi Kallyan Bank
Exam type:  MCQ exam. this exam held in Dhaka city many school and college.
Exam date:  12 January 2018
Exam Time: morning 10.00am start MCQ  exam
Download Admit Card:  this exam admits card Download by Bangladesh bank website..
Important Links :
you need all exam date and result notification use our android apps.
see more information about this exam date see notice image below: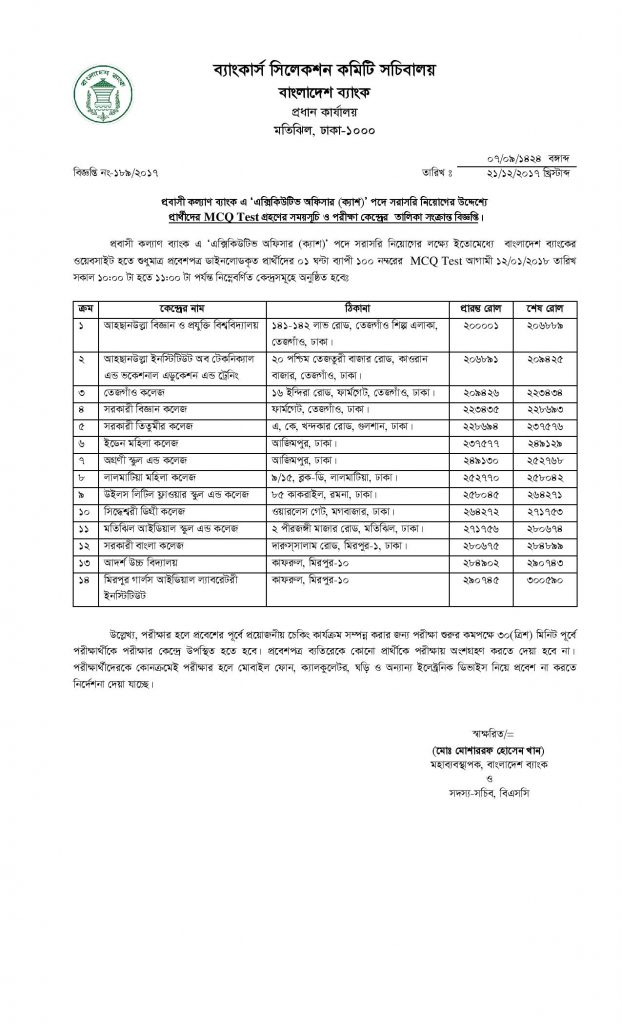 More information:
About Admit:  Probashi Kallyan Bank admits card some day ago published. when you do not download this admit card. you do not attend this exam. see about admit card: Click here
About Result:  then you need this exam result. you can use our android apps Jobs Exam Alert. this app all time notification all exam date and result. or see this link for the result: Click here
About Probashi Kallyan Bank:
The state-run Probashi Kallyan Bank (PKB) was established by the Government of Bangladesh in 2010 to provide collateral free loan to workers going abroad for employment, provide loan to returnees to help them out employment within the country, facilitate sending remittance and encourage the wage-earners to invest in the country. Currently, PKB has 54 branches across the country and 1 booths at hajrat Shajalal international airports. It accepts deposits, extends loans to the migrants and returnees, buys and sells foreign currencies etc. Up to March 2017, PKB has sanctioned loan worth of Tk. 214.6 crore with a recovery rate about 86% and granted migrant loans to 22490 people. PKB not only provides loan, it also handles daily about 2000 overseas job-keepers everyday and collects various fees from them.