BRAC publishes new job circular
সকল চাকরির পরীক্ষার সময়সূচী ও ফলাফল মোবাইলে Notification পেতে Android apps মোবাইলে রাখেন: Jobs EXam Alert
BRAC publishes new job circular. BRAC has recently issued notification for the appointment of indefinite number of manpower in 1 post. You may also be able to join in accordance with the condition that you are eligible for the post. Apply for the post from 7-01-2019. Can be applied till 21-01-2019.
সকল  চাকরির পরীক্ষার সময়সূচী ও ফলাফল মোবাইলে Notification পেতে  Android apps মোবাইলে রাখেন: Jobs EXam Alert
Position names and rank: Driver
Application qualification: The applicant's eligibility, experience and age conditions can be found in the following notices.
Age of job application: Candidate should be between 25 to 35 years of age on 21-01-2019.
Application rules: Interested candidates can fill up the application and submit it till 21 January 2019.
Please see the details below:
সকল  চাকরির পরীক্ষার সময়সূচী ও ফলাফল মোবাইলে Notification পেতে  Android apps মোবাইলে রাখেন: Jobs EXam Alert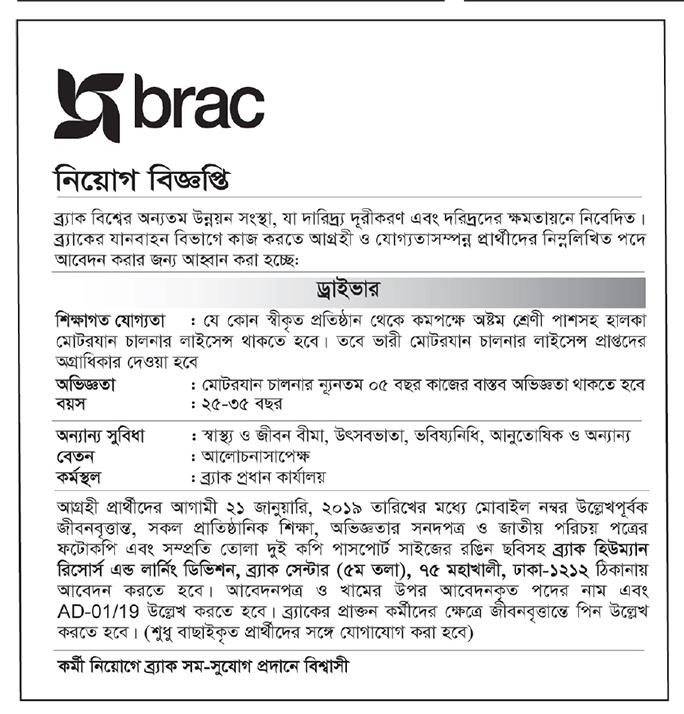 সকল  চাকরির পরীক্ষার সময়সূচী ও ফলাফল মোবাইলে Notification পেতে  Android apps মোবাইলে রাখেন: Jobs EXam Alert
ABOUT BRAC:
Known formerly as the Bangladesh Rehabilitation Assistance Committee, then as the Bangladesh Rural Advancement Committee, and later as Building Resources Across Communities, BRAC was initiated in 1972 by Sir Fazlé Hasan Abed at Shallah Upazillah in the district of Sunamganj as a small-scale relief and rehabilitation project to help returning war refugees after the Bangladesh Liberation War of 1971.] 14 thousand homes had to be rebuilt as part of the relief effort, as well as several hundred fishing boats; BRAC claims to have done this within nine months, as well as opening medical centres and providing other essential services
Until the mid-1970s, BRAC concentrated on community development through village development programmes that included agriculture, fisheries, cooperatives, rural crafts, adult literacy, health and family planning, vocational training for women and construction of community centres. A Research and Evaluation Division (RED) was set up to evaluate its activities and decide direction, and in 1977, BRAC began taking a more targeted approach by creating Village Organisations (VO) to assist the landless, small farmers, artisans, and vulnerable women. That same year BRAC set up a commercial printing press to help finance its activities. The handicraft retail chain called Aarong was established the following year.
In 1979, BRAC entered the health field by establishing a nationwide Oral Therapy Extension Programme (OTEP), a campaign to combat diarrhoea, the leading cause of the high child mortality rate in Bangladesh. Non Formal Primary Education was started by BRAC in 1985.
In 1986, BRAC started its Rural Development Programme that incorporated four major activities – institution building including functional education and training, credit operation, income and employment generation and support service programmes.
In 1991, the Women's Health Development program commenced. The following year BRAC established a Centre for Development Management (CDM) in Rajendrapur.
Its Social Development, Human Rights and Legal Services programme was launched in 1996.
In 1998, BRAC's Dairy and Food project was commissioned. BRAC launched an Information Technology Institute the following year.
In 2001, BRAC established a university called BRAC University.
সকল  চাকরির পরীক্ষার সময়সূচী ও ফলাফল মোবাইলে Notification পেতে  Android apps মোবাইলে রাখেন: Jobs EXam Alert
সকল চাকরির পরীক্ষার সময়সূচী ও ফলাফল মোবাইলে Notification পেতে Android apps মোবাইলে রাখেন: Jobs EXam Alert
সকল চাকরির পরীক্ষার সময়সূচী ও ফলাফল মোবাইলে Notification পেতে Android apps মোবাইলে রাখেন: Jobs EXam Alert
Leave a comment